Dow breaks 18000 – where to now?
By Colin Twiggs
April 21, 2016 11:00 a.m. AEST (9:00 p.m. EDT)
Advice herein is provided for the general information of readers and does not have regard to any particular person's investment objectives, financial situation or needs. Accordingly, no reader should act on the basis of any information contained herein without first having consulted a suitably qualified financial advisor.
Dow Jones Industrial Average broke above 18000, the neckline of a double bottom formation over recent months. Expect retracement to test the new support level. Respect would signal an advance to 20000.
The latest rally is driven by three major factors:
The Fed pulling in its head on raising interest rates;
Surging oil prices; and
Resurgent activity in China as evidenced by a sharp increase in the iron ore price.
None of the three has long-term staying power. The Fed will gradually normalise interest rates as wage pressures increase. Oil production continues to exceed demand. China's resurgence is more hair-of-the-dog-that-bit-you: easy credit to keep the property bubble going and infrastructure spending to revive industry. But they do have the ability to delay (and enlarge) the inevitable correction.
I remain wary of the current state of the global economy and will continue on the defensive. This is not a classic bull market. I will expand on this later.
Dow Jones Global Index is in a primary down-trend but headed for a test of resistance at 320. Breach of the descending trendline at 300 suggests that a bottom is forming. Reversal below 300 would warn of another test of primary support at 270. A higher trough would strengthen the reversal signal.
The S&P 500 is testing resistance at 2100. Bearish divergence on 21-Day Twiggs Money Flow warns of (medium-term) selling pressure. Reversal below 2000 would warn of another test of primary support at 1820 to 1870.
The VIX (CBOE Volatility Index) below 14 suggests that medium-term risks are easing.
Dow Jones Euro Stoxx 50 is also in a primary down-trend but is advancing towards the descending trendline and resistance at 3300. Rising Money Flow suggests medium-term buying pressure. Respect of resistance (3300) would warn of another test of primary support at 2700.
Rapid expansion of the European Central Bank's balance sheet indicates the European economy remains on life support.
Dow Jones Asia Index is also rallying to test resistance, at the former primary support level of 2900/2950. Respect is likely and would warn of another test of the primary support level at 2400. Rising Momentum is bullish but a low peak above zero would warn that the primary down-trend is intact.
Bull and Bear view
A quick recap of the bull and bear outlook for the US.
Bulls
ISM Manufacturing PMI Composite Index recovered above 50 to indicate expansion.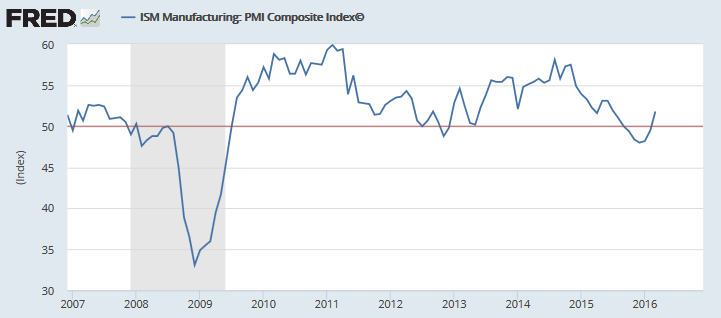 Fedex broke resistance at 165, suggesting that economic activity is recovering.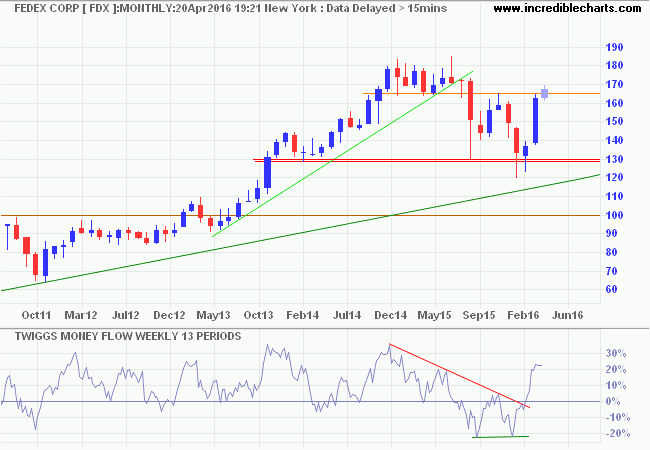 Credit spreads are declining, depicted here by 10-year Baa minus Treasury yields, most likely from an improved outlook in the oil and gas sector.
Bears
Bank earnings got smashed in the first quarter of 2016. Net interest margins at record lows were a major contributor. This is likely to slow bank lending growth.
A resultant slowing of money supply growth, depicted here by real growth in currency in circulation (after deducting core CPI) would risk a recession.
Falling light vehicle sales indicate negative consumer sentiment.
….Which is starting to show in lower retail sales growth.
And falling electric power output raises concerns for manufacturing activity.
The earnings season is just getting started and I would suggest adopting a cautious approach until it is further advanced and the market has had time to digest some of the more bearish results.