By Colin Twiggs
February 13th, 2016 10:00 a.m. AEDT (6:00 p.m. EST)
Advice herein is provided for the general information of readers and does not have regard to any particular person's investment objectives, financial situation or needs. Accordingly, no reader should act on the basis of any information contained herein without first having consulted a suitably qualified financial advisor.
China is betting that it can use its more than $3 Trillion of foreign reserves to stare down hedge funds betting on a collapse of the Yuan. Any sign of weakness in the Yuan would fuel further speculation and flight to safety. Thecaterpillar on the right of the daily chart reflects PBOC efforts to support the Yuan (prevent further appreciation of USDCNY).
But you need plenty of bikkies (chips) to stand firm against the market and China is depleting its foreign reserves to buy up Yuan. IMF figures to September last year show a substantial fall in foreign reserves (excluding gold) but the pace has accelerated and I suspect China must now be close to the $3 Trillion mark (from a high of $4.0T in June 2014).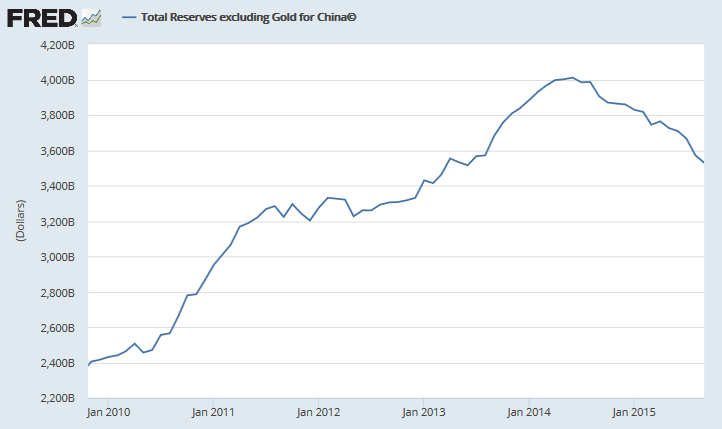 China's sell-off of foreign reserves has had an unusual impact: in the midst of a flight to safety, the Dollar is falling. Sell-off by the PBOC is driving the Dollar Index lower. Good news for US exporters (and manufacturers competing against imports) who would have been crucified by a rising Dollar.
Flight to safety not only led to a sell-off in the Yuan but has spiked demand for Gold. If you can't get your capital out of China to buy real estate in Vancouver or Sydney then the next best alternative is to buy gold. Spot metal prices brushed aside expected long-term resistance at $1200/ounce, reaching highs of $1250. Expect some retracement, but gold should find support at $1200. Completion of a higher trough would confirm a primary trend reversal.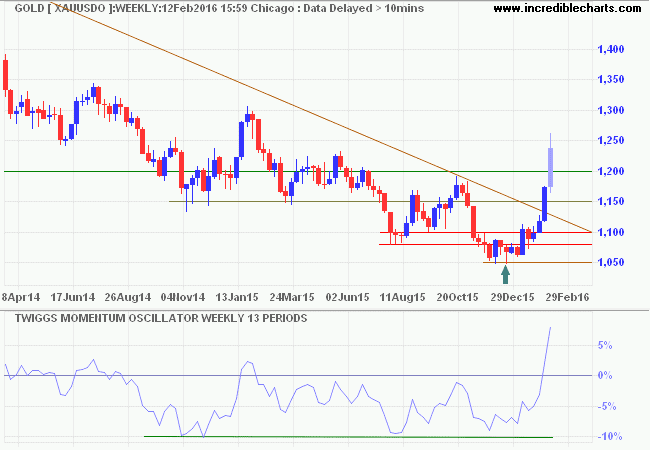 Global stocks
Dow Jones Global Index respected resistance at the former primary support level of 290. Breach of 270 would confirm another decline. 13-Week Twiggs Momentum peaks below zero flag a strong primary down-trend.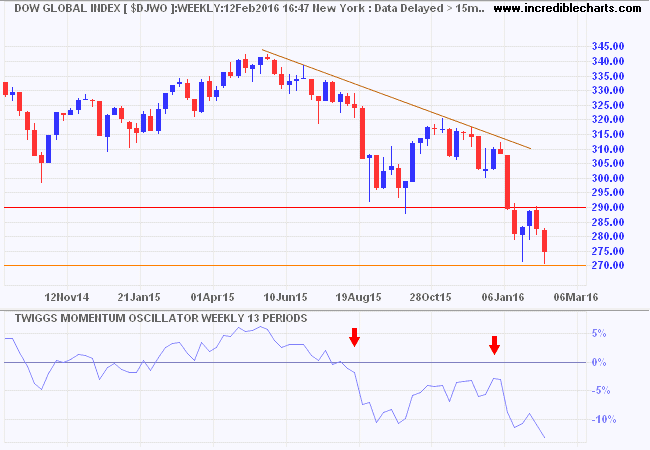 * Target calculation: 290 – ( 320 – 290 ) = 260
Dow Jones Industrial Average is hammering primary support at 16000 but long tails on weekly candles (and rising 13-week Twiggs Money Flow) highlight committed buying. Expect another bear rally next week, but the weight of the market is on the sell side and is unlikely to change course. Breach of 16000 offers a target of 14000*.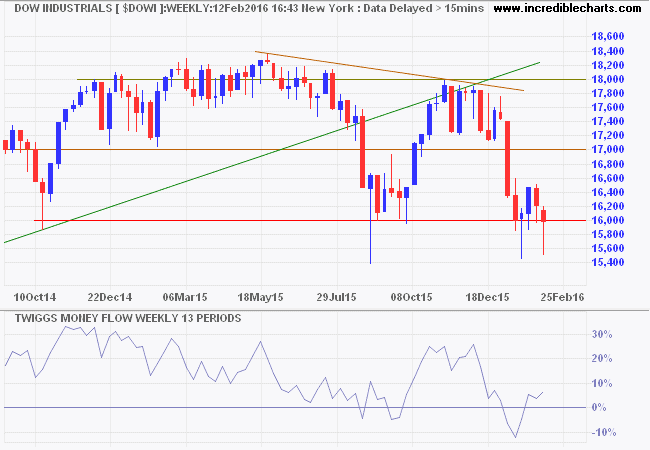 * Target calculation: 16000 – ( 18000 – 16000 ) = 14000
The S&P 500 also rallied Friday and recovery above 1850 suggests another test of 1900/1950. Rising 21-day Twiggs Money Flow reflects medium-term buying pressure. Reversal of the primary trend is unlikely and breach of support at 1850 would confirm a decline to 1700*.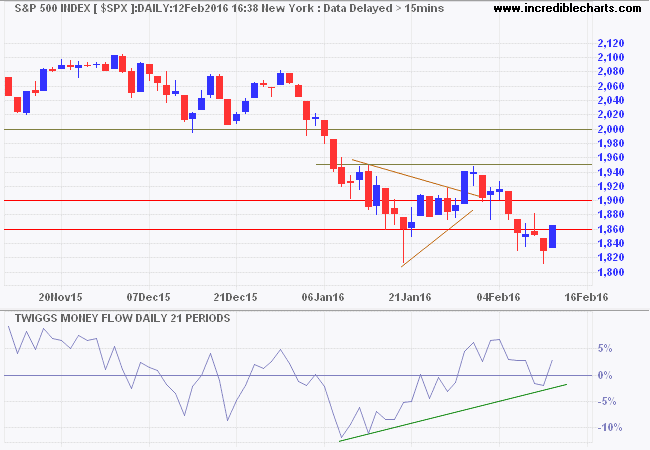 * Target calculation: 1900 – ( 2100 – 1900 ) = 1700
CBOE Volatility Index (VIX) continues to range between 20 and 30, reflecting elevated risk.
U.S. equity and options markets will be closed on Monday, February 15, 2016, in observance of Presidents' Day.
Europe
Dow Jones Europe index continues its primary down-trend. Breach of support at 260 would signal another decline. Declining 13-week Twiggs Momentum below zero confirms a strong down-trend.
Asia
Dow Jones Asia breached support at 2400 confirming another decline. Declining 13-week Twiggs Momentum below zero confirms a strong down-trend.
Australia
The ASX 200 broke support at 4900 this week, confirming a (primary) decline. There are still buyers hoping for a reversal — illustrated by bullish divergence on 21-day Twiggs Money Flow (indicates medium-term buying pressure) — but the weight of the bear market is against them. Expect a test of support at 4600 in the next few weeks but the long-term target is 4000*.
* Target calculation: 4850 – ( 5050 – 4850 ) = 4650; 5000 – ( 6000 – 5000 ) = 4000
Banks are taking a hammering, breach of 75.00/76.00 signaling a decline to 66.00*. Now is not the time to go bargain-hunting. What looks cheap today may be even cheaper tomorrow.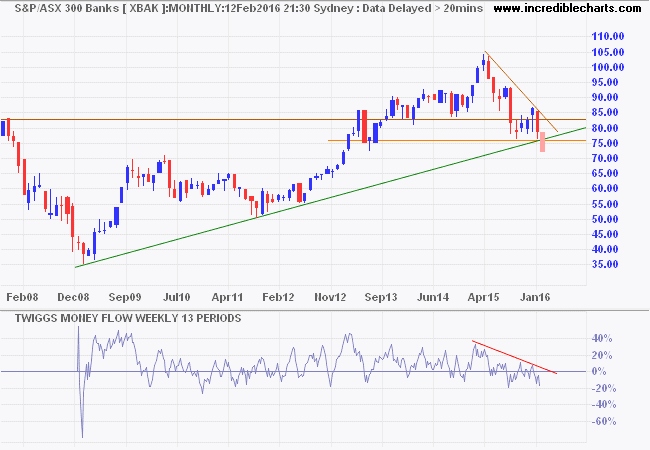 * Target calculation: 7600 – ( 8600 – 7600 ) = 6600