All content in this Introduction to Marketmail represents the opinion of Louis Navellier of Navellier & Associates, Inc.
The Threat of Deflation May Limit the Fed's Options
We are now in earnings announcement season, which means that the crème de la crème is rising to the top again; but the overall stock market was briefly rattled last Wednesday after Wal-Mart announced that it expects its earnings per share to decline 6% to 12% in fiscal 2017, due largely to higher labor costs.
The Fed's latest Beige Book survey was also released last Wednesday and its tone was notably cautious, since two of the Fed's 12 districts (Chicago and Richmond) reported that economic growth has slowed since mid-August. Additionally, the Kansas City district reported an overall decline in economic activity. (The nine remaining Fed districts described their economic growth as "modest" or "moderate.")
The Fed's Beige Book survey also mentioned that the strong U.S. dollar was a head wind for petroleum, petrochemicals, and farm exports. The Dallas, Minneapolis, and New York districts also mentioned that tourism was being restrained by the strong U.S. dollar. Also notable is the fact that the eternally optimistic Fed lowered its estimate for U.S. GDP growth in 2015 to 2.0% to 2.5%, down from a previous estimate of 2.5% to 3.0%. Overall, the Beige Book survey is definitely signaling that the Federal Open Market Committee (FOMC) will not likely be raising key interest rates at its late-October meeting.
Meanwhile, gold quietly reached a four-month high last Thursday due to a rising consensus that the Fed may not raise interest rates this year. The more dovish the Fed becomes, the more gold seems to rise.
The fact that interest rates are negative in the euro-zone for two-year notes continues to change consumer and investor behavior. Due to flat or negative yields, the real stock market winners now seem to be all of those companies that are borrowing at ultra-low interest rates to fuel their relentless purchases of their outstanding shares. As Japan slips into a recession, the deflation risk is real (and is very evident in both the CPI and PPI last week), so we'll see how the Fed tries to address this risk.
In This Issue

In Income Mail, Ivan Martchev gives you some good reasons why we it may be a good idea to avoid the financial sector now, while Gary Alexander's Growth Mail will examine the success of the consumer sector in light of the alleged "death of the middle class." Then, Jason Bodner uses his fascination with astronomy to compare rising market volatility (speed of change) to Halley's Comet! Then I'll return with a rundown on some of the ominous deflationary indicators released last week.
Income Mail: Financial Sector Shows Yellow Flags (QE4 Coming?),
The Forgotten Euro
by Ivan Martchev
Growth Mail: Is Bernie Sanders Right? Is the Middle Class Dying?
"The Rumors of My Death Have Been Greatly Exaggerated" – the Middle Class
by Gary Alexander
Market History: Two Market Massacres on October 20
Happy 130th Birthday, Charlie Merrill
by Gary Alexander
Sector Spotlight: Markets Accelerate in Cycles, Like Comets
Volatility = Faster Rates of Change
by Jason Bodner
Stat of the Week: Deflation Reigns Supreme
Japan May Enter Recession Territory Soon
by Louis Navellier
NAVELLIER SEMINARS in Your Area?
High Yields in Both Stocks and Bonds
All content in "Income Mail" represents the opinion of Ivan Martchev.
Financial Sector Shows Yellow Flags (QE4 Coming?)
I find it unthinkable that some are talking about interest rate hikes as the second largest economy in the world – China – has seen its credit bubble burst and all the signals coming from the commodity and fixed-income markets are that we are likely to have an environment marked by persistent global deflation for a while, maybe five years. Any major central bank tightening in a deflationary environment is bound to make matters worse. Central bankers are supposed to act in a countercyclical manner – that is, they only raise rates in order to fight inflation or constrain breakneck growth – but there is no inflation or rapid growth to fight at present. There is quite a bit of deflation, though.
I am starting to wonder if this deflationary problem is not already showing up in the banking sector.
Graphs are for illustrative and discussion purposes only. Please read important disclosures at the end of this commentary.
This is a relative chart of the SPDR Financial Sector ETF (XLF) against the S&P 500, via the S&P 500 SPDR (SPY). As this chart shows, there has been a bit of a breakdown in the relative market action of XLF when compared to SPY, so enterprising minds have to ask the most important question that the squiggly lines called charts invoke: Why? (Note: Ivan Martchev does not hold a position in XLF. XLF is not currently held in Navellier client portfolios. However, it is a prior holding in Navellier client portfolios.)
Since I'm using charts to make my case, I have to take a little detour regarding an email we got regarding my statement last week
about charts
as they relate to forex markets.
"… for someone saying they put little faith in charts you seem to put enough of them in your commentary to make me wonder on why you do it, if they have nothing to do with an outcome. Certainly fundamentals will take front seat but they do give a heads up on changing trends and how to position your investments."
Perhaps the colorful language I used – like "technical mumbo jumbo" and "squiggly lines" – camouflaged the point I was making – that you have to understand what it is going on behind those charts (i.e., the fundamentals). As charts giving a "heads up," we are in agreement.
So, I asked above, as it relates to the present action in the XLF, why the recent breakdown against SPY?
Could it be the rumored Fed rate-hiking cycle? When the Fed hikes short-term interest rates, the yield curve – the difference between short- and long-term interest rates – flattens. As you can see below (in blue), just before the last major economic downturn began in 2007, the yield curve was flat. This is not the case in 2015 (green line, below). One thing banks definitely fear is a flat yield curve, since it hurts their profitability. (By definition, banks borrow "short" and lend "long," making money on the interest rate differential. The steeper the yield curve the more money they can make, and vice versa).
Graphs are for illustrative and discussion purposes only. Please read important disclosures at the end of this commentary.
If one goes to the Treasury Department site and plugs in a date right before the big economic downturn in 2000, one would find out that then, too, we had a flat (even slightly inverted) yield curve. So flat yield curves not only hurt bank profits but they also tend to happen just before recessions. Both in 2000 and 2007 the flat yield curves came at the end of two rate-hiking cycles. There is a school of thought that says that the Fed has caused every recession with its rate-hiking cycles. There is some validity to that theory in the sense that the Fed is a countercyclical institution and when the economy overheats the Fed tries to slow it down and when it contracts it tries to revive it. That would mean that downturns by definition tend to come after rate-hiking cycles, although I doubt that recession is the objective of the Fed – it is more likely the overheating inflation picture.
The other way a yield curve can flatten and hurt bank profitability is if long-term rates come down aggressively, which is what will most likely happen in a deflationary environment. The 30-year Treasury bond, otherwise known as the long bond, made an all-time low in yield in January, 2015. As a reminder, long bonds are about inflation and economic growth more than anything else. I think it is the inflation part moving the long bonds here and the fact that China has sold nearly $500 billion worth of forex assets to defend the yuan since 2014, the bulk of which are Treasuries. (This is clearly evident by forex reserve data reported by the People's Bank of China and available from the Federal Reserve Bank of St. Louis.) This tells me that even with some forced selling, there is still demand for long bonds.
Graphs are for illustrative and discussion purposes only. Please read important disclosures at the end of this commentary.
If we make new all-time lows in 30-year and 10-year Treasury yields in 2016, I don't think there will be any rate-hiking cycle by the Fed (not to be confused with one or two rate hikes that are reversed later). I think that would be the result of coming deflation out of China due to the unraveling of a credit bubble there. And I think accelerating deflation will call for a more aggressive Fed action….like "QE4."
Graphs are for illustrative and discussion purposes only. Please read important disclosures at the end of this commentary.
The U.S. banking sector is beginning to resemble the banking sector in Japan, where 20 years of deflation have wiped out quite a bit of bank capital. The Japanese banks have massively underperformed the local stock market. (For a proxy of the Japanese bank sector, we can use theMitsubishi Tokyo Financial Group (MTU) relative to the Japan iShare (EWJ) which would also eliminate the currency translation distortion of ADRs). EWJ seeks to replicate the Japanese stock market, focusing on large and mid-cap Japanese companies. After a QE program that was three times more aggressive than the Fed's, relative to GDP, the BOJ still has a deflationary problem. (Note: Ivan Martchev does not hold any of the securities mentioned. MTU is not a current holding in Navellier client portfolios, and was not in the past, either. EWJ is not a current holding in Navellier client portfolios, but it was a prior holding in some portfolios.)
It would be quite interesting to see how the Fed language changes from rate hikes in 2016 to creating more stimulus, because it looks like QE4 is coming.
The Forgotten Euro
With the euro consolidating in the $1.12 to $1.15 area against the U.S. dollar, the headlines about the demise of the European common currency have died down.
Graphs are for illustrative and discussion purposes only. Please read important disclosures at the end of this commentary.
I don't know if the euro will cease to exist – although that is possible – but I know that the basic flaw of having a unified monetary policy and a disjointed fiscal policy is still there. The Europeans are still pressing on with their belated QE, while the most incompetent Prime Minister in post-WW2 Greek history is enjoying a second term after crippling the Greek banking system with his absurd policies that resulted in a gigantic bank run over the summer. In other words, Europe is still where it was before this large decline in the euro started, but it seems to be escaping the headlines for the moment – other than the massive refugee crisis engineered by Islamic State militants.
I think a further decline in the EUR/USD cross rate is coming in 2016. I don't think anything has been fixed with the flaws of the common currency or the EU experiments. Markets sooner or later tend to expose such flaws.
The euro carries a 57% weight in the U.S. Dollar index, which is causing people to think that the dollar has calmed down in the past six months; but the broader Trade Weighted Dollar Index has been appreciating in the meantime. When this EUR/USD consolidation phase is over, I expect the euro to take out parity to the dollar as I don't think their QE operation is working out as planned.
All content in "Growth Mail" represents the opinion of Gary Alexander.
Is Bernie Sanders Right? Is the Middle Class Dying?
"The history of the 20th century is full of examples of countries that set out to redistribute wealth and ended up redistributing poverty…. How can that be? It is not complicated. You can only confiscate the wealth that exists at a given moment. You cannot confiscate future wealth – and that future wealth is less likely to be produced when people see that it is going to be confiscated."
                           – Thomas Sowell, "The Fallacy of Redistribution," September 20, 2012
In last week's Democratic Party candidate's debate, the avowed Socialist Bernie Sanders said the U.S. has "more wealth and income inequality than any other country," yet FactCheck.org said that, according to the World Bank's "Gini" index, at least 41 countries have greater income inequality than the U.S., and the Global Wealth Databook ranks the U.S. 11th out of 37 major nations in wealth controlled by the top 1%.
In last week's debate, Sanders also said, "The middle class of this country for the last 40 years has been disappearing" as "almost all of the new income and wealth being created is going to the top 1%." (The other candidates seemed to agree: Maryland's Martin O'Malley said, "Our middle class is shrinking.")
The economic statistics fairly scream the opposite. Just look at the last few weeks of economic statistics, as reported here in Louie's "Stat of the Week" column.
Here are three items from the last three weeks:
The Conference Board announced that its consumer confidence index rose to 103 in September, up from 101.1 in August. It is now at its highest level since 2007. The "present situation" component (measuring current conditions) was especially strong, reaching its highest level in eight years.
The Commerce Department revised second-quarter GDP growth to an annual rate of 3.9%, up from its previous estimate of 3.7%. The primary reason for the upward GDP revision was that consumer spending grew at an annual pace of 3.6% in the second quarter, up from a previous estimate of 3.1%.
Home sales rose 21.4% to an annual pace of 552,000 in August compared to the same month a year ago. This was the strongest annual pace for new home sales since February of 2008.
How can the middle class be dead or dying if their confidence is up, their "present situation" is the best in eight years, consumer spending is fueling GDP growth of 3.9%, and new home sales are skyrocketing?
In addition, Americans bought 1.44 million cars in September of 2015, according to
Car & Driver
(on-line, October 12), up 16% from September of 2014. The richest 1% didn't buy all those cars. Cars are middle-class transportation. Car sales are on track to reach 18 million in 2015, the highest figure since 2000. Next time you're in a traffic jam in a big city like Los Angeles, Houston, Seattle, or Boston, ask yourself how so many gainfully employed but "dying" middle class drivers are choking the highways around you each day of the week.
"The Reports of My Death have Been Greatly Exaggerated"
–The American Middle Class
Families tend to buy big-ticket items (like homes and cars) from their accumulated wealth more than their current income level. While wage income may be stagnant, so is inflation – so that's a wash – but most American families are far wealthier than they were five or 10 years ago. The net worth of households and nonprofits (after subtracting all mortgages, debts, and other liabilities) climbed to a record high of $85.7 trillion as of June 30, up over 50% since sinking to $56.5 trillion at the end of 2008 (according to the Fed's latest Z.1 data, released September 18, 2015), due mostly to a recovery in financial markets and housing.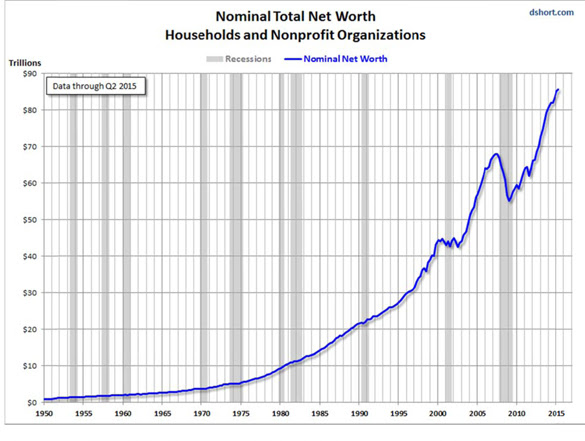 Graphs are for illustrative and discussion purposes only. Please read important disclosures at the end of this commentary.
Real estate prices have recovered dramatically in the last five years, and the S&P 500 is up over 200% during the life of this bull market, and most Americans (i.e., the middle class) own their own home and own a piece of the stock market through their company's 401 (k) plan or a personal investment account.
The U.S. consumer is alive and well. In the last 10 years, according to Yahoo! Finance, the S&P Retail sector ETF is up 157.72% and the S&P Consumer Discretionary ETF is up 142.53% vs. only 59.25% for the S&P 500. This can't happen if
"almost all of the new income and wealth is going to the top 1%."
This is not a political commentary but an observation of economic reality. If you think the middle class is dying, you should not invest in the S&P Retail Sector or Consumer Discretionary sectors, but reality tells us that the two consumer-related S&P sectors were the best performers over the last 12 months:
In "American Dream or Myth?" (August 5, 2015), Ed Yardeni wrote, "The American Myth is that the American Dream has turned into a nightmare for most Americans. The widely believed narrative is that the rich have gotten richer, while the standard of living for all the rest of us has stagnated for years. In a word, that's balderdash…. The standard of living, as measured by real consumption per household, is at a record high for the average American. There aren't enough rich people to skew the average to this record high." Specifically, he said: "In June, personal income per household was at a record high of $130,277 in current dollars. It was $118,803 in real dollars, up a whopping 108% since the start of the Census data in 1967."
Princeton economist Angus Deaton was born 70 years ago yesterday, on October 19, 1945, in Edinburgh, Scotland. He is the grandson of coal miners from the South Yorkshire coalfields, so he has seen first-hand the evolution of health and wealth in the late 20th century. Deaton was awarded the 2015 Nobel Prize in economics last week for his study of wealth and health in the last century. His popular version of that research appears in his 2013 book, "The Great Escape: Health, Wealth and the Origins of Inequality."
In explaining his book's title, Deaton calls the "reduction in global poverty since 1980" the "greatest escape in all of human history, and certainly the most rapid one." In China and India alone, he says, "recent economic growth has transformed the lives of more than a billion people. That global poverty should have fallen goes against the almost universally accepted doomsday predictions of the 1960s…"
In the 1970s – that glorious Nirvana that some economists hail as our decade of greatest income equality – we suffered 15% inflation, a bond and stock market crash, 20% interest rates, and three nasty recessions. Currently, inflation and interest rates are near zero, unemployment is near 5%, and stocks are rising. We also have access to near-free electronic goodies in a Worldwide Web that was unimaginable in the 1970s.
Which world do you prefer, 1970 or now? To answer that question, let's look deeper into market history:
All content in "Today in Market History" represents the opinion of Gary Alexander.
Two Market Massacres (in Washington & Toronto) on October 20
Since we're talking about the 1970s…
October 20, 1973 has gone down in history as the "Saturday Night Massacre," a political bloodbath in Washington, DC. President Nixon ordered Attorney General Elliott Richardson to fire Special Prosecutor Archibald Cox. He refused and resigned. So did Deputy AG William Ruckelshaus. It fell to Robert Bork to fire Cox, allegedly in exchange for a nomination to the Supreme Court, which came much later.
That made the headlines, but the bigger story was the longer-term massacre at the gas pump and on Wall Street. On October 19, Nixon requested Congress to appropriate $2.2 billion in aid to Israel in the "Yom Kippur War." OPEC responded on October 20 with an oil embargo, sending gasoline prices sky-high.
The political fallout led to Nixon's resignation within a year, while America suffered from gasoline shortages, price increases, and a Wall Street crash. Oil prices quadrupled from $3 per barrel to $12 in short order, and the S&P 500 fell 44% from 111.44 on October 12, 1973 to 62.28 on October 3, 1974.
October 20, 1987 provided the scariest hour of the Crash of 1987, as the market opened sharply down after falling 508 points the day before ("Black Monday"), October 19, 1987. There was no buying at the opening. The DJIA fell 100 points in early trading, but by the end of the day, it was up over 100 (+6%), the first-ever 100-point daily gain, on record volume of 608,120,000 shares. The next day, October 21, the point gain record was shattered with a 187-point rise (+10%), the first 10% daily rise since 1933. Two of the biggest daily gains of the late 20th century came in the two days following Black Monday, 1987:
Despite the recovery on Wall Street, October 20 was "Bloody Tuesday" on the Toronto Stock Exchange (TSE), a more commodity-oriented market. The Toronto Stock Exchange index of 300 stocks fell 220.9 points. On Black Monday, gold rose $16, but the gold bugs' victory on Black Monday was reversed on "Bloody Tuesday," as some stock investors apparently had to sell gold-related assets to meet margin calls.
During that week, America was in the middle of a World Series (Minnesota vs. St. Louis). For the three mid-week games in St. Louis, Merrill Lynch pulled their regular TV ads and replaced them with a sober message that told baseball fans that Merrill Lynch was "still bullish on America." Speaking of which…
                                     Happy 130th Birthday, Mr. Merrill
Charles E. Merrill was born on October 19, 1885, in the suburbs of Jacksonville, Florida. He was dogged by bad timing, at first: He arrived in Manhattan as the Panic of 1907 began. In 1914, when he had set up shop on Wall Street with Edmund Lynch (as Merrill Lynch), the market closed for World War I.
But he kept coming back to his good-time gospel of rising stock prices for the average American. By 1947, Merrill was sending out 75,000 free subscriptions to his bi-weekly Investor's Reader, but it was still an uphill battle. Gradually, the number of individual shareholders began to rise in the 1950s, growing by 10% a year, from five million in 1950 to 8.6 million in 1956, when Merrill died, "bullish" to the end.
Here are some other notable events happening near this date in early American history:
October 19, 1781: Cornwallis surrendered at Yorktown, ending the Revolutionary War.
October 20, 1803: The U.S. Senate ratified the Louisiana Purchase.
October 20, 1818: The 49th parallel became the border between the U.S. & Canada.
October 20, 1864, President Lincoln established Thanksgiving as a national holiday.
And finally, here are some technology anniversaries to celebrate this week:
On October 21, 1879, Thomas Edison built his first successful electric light bulb; the first bulb lasted 13 hours. Then he built another, and legend has that he watched these two bulbs glow for 40 hours straight.
A century ago tomorrow, on October 21, 1915, the first trans-Atlantic phone call was transmitted over radio-telephone. The call was placed from Arlington, Virginia, to the Eiffel Tower in Paris, France.
On October 21, 1925, the first photoelectric cell was demonstrated at the Electrical Show in New York. The light-sensitive cell was used to count objects as they interrupted a light beam.
October 22, 1938, the first Xerox copy was made by Chester Floyd Carlson, in Astoria, Queens, NY. He made it by pressing wax paper against an electro-statically charged, sulfur-coated zinc plate covered with fine, dark powder. The paper read "10-22-38, Astoria." He patented the process in 1940, and it was used in the war by Allied pilots, but he failed to interest private companies in copy machines. In 1947, his Haloid Company of Rochester, NY licensed the process. Xerox introduced its first copy machine in 1958.
October 22, 1948: The first fax was sent. RCA "ultra-faxed" all 1,047 pages of Gone with the Wind from a radio station to the Library of Congress in a single-sheet fax that took two minutes, 21 seconds to send.
All content of "Sector Spotlight" represents the opinion of Jason Bodner.
Markets Move in Cycles, Like Comets
When we hear the word "comet," we immediately think of Halley's Comet, which last visited Earth in 1986. Its first officially recorded observation was by Chinese astronomers on May 25, 240 BCE, and like clockwork, it has come around every 75.3 years. Something interesting about Halley's Comet is that due to its elongated elliptical orbit, its speed varies greatly. It spends most of its orbit plodding along. At the farthest point in its orbit, it is travelling about 2,236 miles per hour. But as it approaches the sun, it accelerates to dizzying speeds until it is slung out again along the path that it will follow for the next 75+ years. When it is nearest the sun, it is moving 100 times faster, at 223,600 mph!
This cyclical behavior of a comet's orbit makes me think of equity market cycles. Markets spend most of their up trends grinding out small gains over time. They reach their zenith only to be catapulted rapidly the other way, often into corrections or bear markets. The "orbit" cycle continues in the opposite direction until a new base is built and the consistent rise can begin again. All one needs to do to see this is look at a maximum historical chart of a U.S. equity index such as the Dow Jones Industrial Average (DJIA).
Graphs are for illustrative and discussion purposes only. Please read important disclosures at the end of this commentary.
Our most recent bull market has lasted over six years. The tumult of the past few months was at first welcomed under the guise of being "part of a healthy market." While it is true that corrections are healthy, the fear of a slowdown in growth seems to have propagated and perpetuated a self-fulfilling prophecy. It's like the market willed itself (with worry) to head lower. And just at the peak of bearish sentiment, in early October, we have caught a significant rally in the S&P 500. But the rally has been led by the losers of the last year, such as energy and industrials. On the contrary, some of the strongest stocks with solid fundamentals have been under pressure as the question of future growth looms overhead
.
Volatility = Faster Rates of Change
The prevailing theme continues to be volatility, as the talk has moved from an imminent rate rise to what are now whispers of negative rates. Commodities, which seemed like they couldn't catch a bid, have now become the recent leaders. Dollar strength has taken a notable pause. Sector rotations have been swift and choppy. Oil and Gas stocks have performed even better than the price of crude oil, which has rallied more than 20% from its lows. Heathcare went from star performer to a sector licking its wounds.
As we turn to what sectors worked best last week, the theme of this rally continues. We see the weaker groups continuing to lead this recent uptick. Yield seemed to be in demand last week as utilities were the clear winner: The S&P 500 Utilities Index posted a +2.30% return for the week. It has now rallied 10.2% from its September 4th low of 206.51.
Graphs are for illustrative and discussion purposes only. Please read important disclosures at the end of this commentary.
In keeping with that theme of demand for yield, this past week saw significant accumulation in REITS, which helped bolster the Financials index. Financials had a particular show of strength on Thursday, with the strongest 1-day performance all week of any sector with +2.31%. The S&P 500 Financial Index however, has been the sector most subdued since the August 24th capitulation day.
Source: Barchart.com
Graphs are for illustrative and discussion purposes only. Please read important disclosures at the end of this commentary.
Here's a quick summary of how the sectors performed last week:
As the market tries to right itself, it is important to note that what is leading us out of the depths is not strength. Short-covering, oil, gold, and yield-bearing stocks have seen the most inflows. Earnings season is here, and as we await numbers from the market's recent leaders, the real focus will be on guidance.
While we are on that topic, worries continue to swirl: Are we headed into a bear market? Should we worry about deflation? Should we trust the retail sales and jobs data? Is the China slowdown going to take out the whole world? These have been the main questions on everyone's minds lately.
One thing we can most certainly count on is that markets rally, then correct, and then rally. The world has been through tougher times and if you take another look at the DJIA chart, above, it tells us that the past crashes are no blips, so any recent bumps of volatility (read uncertainty) will resolve, too. And then they will happen over and over again. Just like the orbit of the comets. Slow then fast. Then slow, then fast….
All content in this "Stat of the Week" section of Market Mail represents the opinion of Louis Navellier of Navellier & Associates, Inc.
The Labor Department announced last Wednesday that its Producer Price Index (PPI) declined 0.5% in September, substantially below economists' consensus estimate of a 0.2% decline. Wholesale gasoline costs plunged 17% in September, which drove the overall cost of goods down 1.2%. Interestingly, the cost of wholesale services declined by 0.4% in September, the largest monthly decline since February.
Excluding food and energy, the core PPI declined 0.3% in September. In the past 12 months, the PPI has declined 1.1%, while the core PPI has risen 0.5%. The trailing 12-month PPI has now been negative for eight straight months, so deflation remains rampant on the wholesale level.
The other news that spooked the market on Wednesday was that the Commerce Department announced that retail sales rose only 0.1% in September and August's retail sales were revised down to unchanged (from an initial estimate of a 0.2% increase). However, much of the deceleration in retail sales is due to deflation and falling gasoline prices. In September, gas station sales declined 3.2% due to lower fuel prices, while auto sales rose 1.7%. Excluding both gas and auto sales, overall retail sales were flat. In the past 12 months, retail sales are up 2.4%, but they rose by a more robust 4.9% when gas station sales are excluded. Factoring out inflation, Ed Yardeni reported last Thursday (in his Morning Briefing, titled "Stress Tests") that "Q3 real retail sales rose 4.0%."
Speaking of falling prices, the Labor Department announced on Thursday that its Consumer Price Index (CPI) declined 0.2% in September, due largely to a 9% decline in retail gasoline costs. The cost of food rose 0.4% in September, so the core CPI, excluding food and energy, rose 0.2%. In the past 12 months, the CPI is unchanged, while the core CPI has risen 1.9% due largely to higher rental costs.
Since the CPI has been unchanged in the past 12 months, there will be no Cost of Living Adjustment (COLA) for Social Security recipients in 2016. In the past three years, Social Security recipients received 1.7%, 1.5%, and 1.7% cost of living adjustments in 2013, 2014, and 2015, respectively. Since senior citizens tend to drive less, they benefit less from lower gasoline prices, but medical costs (which impact seniors more) have risen 2.5% in the past 12 months; so senior citizens will not be happy with the lack of a Social Security COLA for 2016. Since senior citizens are the most powerful voting bloc, it will be interesting to see how they react to the lack of a Social Security COLA in a Presidential election year.
Japan May Enter Recession Territory Soon
The other big news on Thursday was that the Japanese Trade Ministry announced that industrial output declined 1.2% in August, which was more than double its preliminary estimate of a 0.5% decline.
Specifically, Japanese manufacturers cut production of autos, electronic machinery, and computer memory due largely to concerns about China's decelerating economic growth. Economists are now expecting that Japan's GDP will decline 0.9% in the third quarter after a 1.2% decline in the second quarter. This means that Japan will likely join Australia, Canada, South Korea, and other major nations now in recessions.
Recessions reduce the demand for commodities, causing further price declines as demand stalls. Last Tuesday, the International Energy Agency (IEA) warned that crude oil markets would likely remain oversupplied as worldwide demand slows and Iran boosts it crude oil production. Specifically, the IEA cut its forecast for oil demand in 2016 by about 200,000 barrels a day vs. its previous forecast. The IEA now sees world oil consumption rising by only 1.2 million barrels a day in 2016, vs. a five-year-high growth rate of 1.8 million barrels a day in 2015. Additionally, the IEA said Iran's production could rise to 3.6 million barrels a day once sanctions are lifted, up from a current rate of 2.9 million barrels per day.