August 21, 2015
"If you are shopping for common stocks, choose them the way you would buy groceries,

not the way you would buy perfume." –Benjamin Graham
The great trading range has finally come to an end! For 138 straight trading days, the S&P 500 closed between 2,040.24 and 2,130.82. But not on Thursday. The index dropped 2.1% to close at 2,035.73. This was one of the longest and tightest trading ranges in decades.
What a frustrating market this has been! In Greek mythology, Sisyphus was the unfortunate fellow who had to spend all eternity rolling a boulder uphill, only to watch it roll back down again. I think ol' Sis would have felt right at home in this trading range. Every time we got some upward momentum, the bears showed up to wreck things. But any time the market started to lose ground, sure enough, the bulls strolled in and pushed us higher.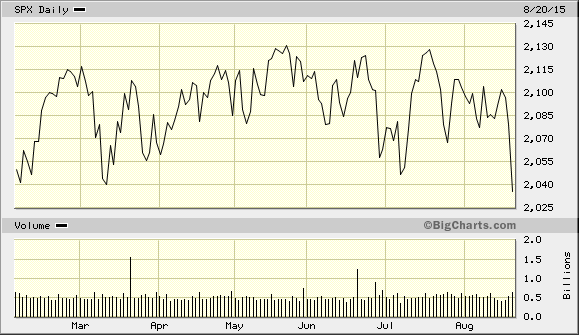 So does the end of the trading range mean bad news for stocks? I doubt it. The market climate is still mostly favorable for stocks, although there are some areas to avoid. Internally, the market is shunning commodity-related stocks, and that's been good for us. Our Buy List has expanded its lead against the market to 6.34% for the year.
This week, we got good earnings reports from Hormel Foods (HRL) and Ross Stores (ROST). Not only did Hormel beat earnings, but it guided higher and touched a new 52-week high. Ross Stores also beat earnings, but its guidance was rather cautious. I'll have more details in a bit. Later on, I'll share with you some stocks I'm considering for next year's Buy List. But first, let's look at the end of the Great Trading Range of 2015!
The Market's Worst Day in More than 18 Months
Thursday was the single worst day for the market since February 3, 2014. Of course, the more interesting part of that factoid is that the worst day in an 18-month span brought a loss of just 2.11%. Compared with a few years ago, that ain't nothing. We've been fortunate to live through a placid market, but it's a good reminder that markets don't always remain so relaxed. I don't mind a little volatility. In fact, volatile markets are good for our style of investing. More volatility means that more high-quality stocks will get caught up in a temporary down draft. That's fine by me.
This month, I'm going to forego any discussion of the Federal Reserve and what their plans for interest rates are. All we need to know is that rates are going to go up soon. Exactly when isn't important. The other key fact is that real interest rates, meaning rates adjusted for inflation, will continue to remain low for an extended time. This is very good for us as investors. The average dividend yield is running around 2%, so it will take several rate increases before the short-term fixed market can offer serious competition.
Lately, the daily market has been in a tug-of-war between commodity-based cyclicals and high-dividend value stocks. A good way to look at this is through the behavior of the Energy Sector ETF (XLE) and the Utility Sector ETF (XLU). Nearly every day, these are the best and/or worst performing sectors. They're acting like negatively charged magnets.
For the most part, the high-dividend value stocks have been winning. Nearly any commodity-related stock has been getting tossed aside. The XLE just closed at a 38-month low. This summer has been terrible for commodities. The flip side is that this has been a very good environment for our Buy List. Investors have been flocking towards the safety of high-quality stocks.
While I don't believe the overall market is in trouble, I would be wary of sectors like high-priced tech names. I'd also steer clear of many biotech stocks. Some biotechs have started to come down, but I think there could be a real shakeout. I'd also avoid trying to find a bottom in the energy patch. Things could get much worse. Some sectors, like the homebuilders, look quite reasonable here.
Some good names on our Buy List right now would include Cognizant Technology Solutions (CTSH). Shares of AFLAC (AFL) got dropped more than 5% on Wednesday and Thursday. The duck stock had been recovering, but a downgrade by BAML knocked it back. My Buy Below for AFLAC is $65 per share, but it's especially attractive below $62 per share. I also like PayPal (PYPL) below $36 per share. Now let's look at this week's Buy List earnings reports.
Hormel Foods Beats and Raises
Before the opening bell on Wednesday, Hormel Foods (HRL) reported earnings of 56 cents per share for the July quarter (the company's fiscal Q3). That beat estimates by one penny per share. Revenue came in at $2.19 billion, which was below the Street's consensus of $2.24 billion.
If you recall, there had been some concerns that Hormel was feeling the effects of the avian flu. The company was up front about the impact and said any problems would be temporary. These results suggest that's correct. Bear in mind that Hormel owns several brands and they're well diversified. In fact, the company recently made a big move into natural and organic food by buying Applegate Farms. I think that was a smart move.
From the earnings press release:
"Our balanced business model prevailed once again this quarter, as we were able to overcome the significant challenge of avian influenza in our Jennie-O Turkey Store segment to deliver record earnings and volume sales," said Jeffrey M. Ettinger, chairman of the board, president and chief executive officer. "Grocery Products drove earnings growth with favorable input costs and increased sales of HORMEL® chili and SKIPPY® peanut butter. Specialty Foods also delivered excellent results, as the team continues to increase sales of MUSCLE MILK® protein nutrition products, and improve the cost structure and synergies between our CytoSport and Century Foods businesses. Revenues were down for the quarter, impacted by lower pricing due to declining pork markets affecting our Refrigerated Foods and International segments, and the loss of sales related to avian influenza in the Jennie-O Turkey Store segment."
Yes, Hormel is a lot more than Spam. The best news is that Hormel raised its full-year guidance. It now sees full-year earnings ranging between $2.57 and $2.63 per share. The earlier range was $2.50 to $2.60 per share. This is actually the second time Hormel has raised its full-year guidance. The new range implies growth of 15% to 18% over 2014, which itself was a record year. When the next earnings report comes out around Thanksgiving, expect Hormel to announce its 50th dividend increase in a row. Here's the 25-year log chart for Hormel:
The stock had an unusual reaction to the earnings report. Shares of HRL rallied 1.1% on Wednesday, then rallied again on Thursday after it was upgraded by Deutsche Bank. It's almost like traders were waiting for permission to buy. On Thursday, the stock rose 3.9% to touch a new 52-week high. Yesterday, it was the second-best performer in the S&P 500. Hormel is now a 22% winner on the year for us. I'm raising my Buy Below to $68 per share.
Ross Stores Beats but Offers Weak Guidance
After the closing bell on Thursday, Ross Stores (ROST) reported fiscal Q2 earnings of 63 cents per share. That also beat consensus by one penny per share. The deep discounter earned 57 cents per share for last year's Q2. Quarterly sales rose 9% to $2.968 billion. Comparable-store sales were up 4%.
Now for guidance, which is pretty weak. For Q3, Ross sees earnings ranging between 48 and 50 cents per share, and comp-store sales growth of 1% to 2%. For Q4, which is the big holiday quarter, Ross projects earnings between 60 and 63 cents per share, and comp-store sales growth between 0% and 1%.
CEO Barbara Rentler addressed the weak guidance:
Looking ahead, Ms. Rentler said, "While we hope to do better, we are maintaining a cautious outlook for the second half, when we face more challenging sales and earnings comparisons. In addition, the macro-economic and retail landscapes remain uncertain.
Adding it all up, Ross sees earnings this year coming in between $2.40 and $2.45 per share. They made $2.21 per share last year. The shares were down about 9% in after-hours trading, so I expect an ugly day on Friday. Still, I'm going to raise my Buy Below on Ross Stores from $52 to $54 per share.
Stocks I'm Considering for Next Year's Buy List
I won't unveil my 2016 Buy List for four more months, but I wanted to share with you some ideas I'm considering for new additions. Of course, there's no guarantee that these will be our new stocks; December is a long time away. I don't want to go into too much detail yet, but these are some options I'm looking at. Ultimately, I'll choose only five.
Alliance Data Systems (ADS) is an interesting company. They're the folks behind all those "loyalty" programs. They've had impressive earnings growth, but the stock got hammered last month after its earnings report.
Silgan Holdings (SLGN) is a leading supplier of rigid packaging for shelf-stable food and other consumer-goods products.
Danaher (DHR) is a former Buy List stock I never should have gotten rid of. Solid stock.
International Flavors & Fragrances (IFF) is a cosmetics and consumer-products company.
Hershey (HSY) is the major candy conglomerate. Very stable business. The just raised their dividend by 9%.
Foot Locker (FL) has been, believe it or not, an earnings powerhouse.
I always say I'll buy CVS (CVS) when it pulls back. It never does. There's probably a lesson in that.
Cerner (CERN) is a healthcare IT company. Amazing earnings growth. The stock has been down recently.
IDEX (IEX) is one of those boring diversified manufacturers that no one ever pays attention to. The stock hasn't done much in the last two years. They make the Jaws of Life.
The name, Mettler-Toledo International (MTD), is nearly good enough for me. The Ohio-based medical-instruments company has been growing very rapidly. I'd like to see the price come down.
OSI Systems (OSIS) "designs and manufactures specialized electronic systems and components worldwide." They make metal detectors and airport X-ray inspection machines.
That's all for now. No big earnings reports are on tap for next week, but there are a few crucial econ reports due to come out. On Wednesday, the durable-goods report is due to be released. The last report—the one for June—was pretty good, and I'm hoping to see some follow-through. On Thursday, the government will revise its report on Q2 GDP. The initial report showed growth of 2.3%, which wasn't so hot. On Friday, the figures for Q2 personal income and spending will be revised. The initial reports were mostly in line with expectations. Be sure to keep checking the blog for daily updates. I'll have more market analysis for you in the next issue of CWS Market Review!
– Eddy
Named by CNN/Money as the best buy-and-hold blogger, Eddy Elfenbein is the editor of Crossing Wall Street. His free 
Buy List
 has beaten the S&P 500 seven times in the last eight years. This email was sent by Eddy Elfenbein through Crossing Wall Street.
2223 Ontario Road NW, Washington, DC 20009, USA